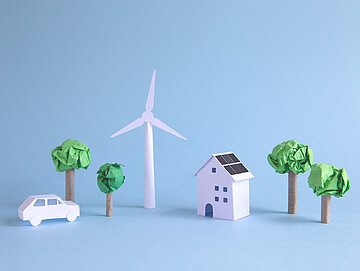 We take responsibility for people and the environment

Sustaina­bility at RAUMEDIC
"For us, sustainable action is not a trend, it is a fundamental conviction of our company and one of the most important drivers of future innovation. Therefore, we see it as our task, together with our customers, to act in a way that conserves resources, protects the environment and is socially committed to future generations."
Stefan Seuferling, CEO RAUMEDIC AG
As a responsible family business, RAUMEDIC has been committed to the three pillars of sustainability for many years: ecology, economy and social issues.
Ecology
Responsible use of resources
Through a combination of careful use of resources and innovative technologies, we are reducing our carbon footprint as well as our energy requirement.
Biobased & biodegradable polymers
We have been working with renewable raw materials for years. We already offer our customers biopolymers that can be an ecological alternative to plastics; in addition to new application possibilities, they result in significantly lower CO2 emissions.
Separation of waste by type
Where waste is unavoidable, we take on the responsibility of sorting waste by type, separating high-quality and valuable raw materials. In this way, we make an important contribution to environmental protection.
Economy
Sustainable use of our technologies and competencies
By combining the latest energy-efficient processes for the processing of plastics with our expertise in mold making and assembly, we ensure efficiency and effectiveness in the production of complex plastic components. In doing so, we can draw on over 70 years of experience.
Systematic energy management according to ISO 50001
By establishing and expanding sustainable systems and processes in the field of energy management in accordance with DIN EN ISO 50001, we make a positive contribution to environmental and climate protection.
Sustainable growth
RAUMEDIC as a family business, does not focus on short-term profits, but on sustainable, profitable growth.
Social Issues
Secure jobs and an extensive training program
Long-term partnerships are important to us not only with our customers, but also with our employees. They have access to a wide range of ongoing training, strengthening professional competence and offering personal development.
Equal opportunities
RAUMEDIC promotes diversity of people and perspectives. Through different genders, nationalities, ages, cultures, and experiences, we create unique solutions for our customers.
Social Commitment
We assume responsibility for our employees at all our sites worldwide and are committed to social projects.
RAUMEDIC turns words into deeds:
Awarded the ecovadis label in the silver category
Affiliated company REHAU as part of the initiative 50 Sustainability & Climate Leaders
Savings of > 3.25 million kWh of electricity in the last seven years
Reduction of CO2 emissions by more than 1,300 tons in the last seven years
Reduction of waste per kilogram produced by 35% in the last three years
Products according to ecodesign approaches
8,000 m² of flower meadows and wild fields on the company premises
Electromobility
Bicycle leasing for employees
Sustainable donations and sponsoring concept
Memberships and Certificates
CERTIFIED
ISCC Plus
RAUMEDIC AG is proud to have received ISCC PLUS certification, which underlines our commitment to sustainable and climate-friendly supply chains. ISCC PLUS is a voluntary certification system that applies to the bioeconomy and circular economy for food, feed, chemicals, plastics, packaging, textiles and renewable raw materials. With this certification, we meet the high sustainability requirements for our products and processes that are expected by our customers and partners. We are convinced that ISCC PLUS is an important step in realizing our vision of a healthy and livable future for all.
MEMBER OF

Sustainability Circle
Certified

DEKRA Energy Management

ISO 50001
Certified

DEKRA Energy Management

ISO 14001