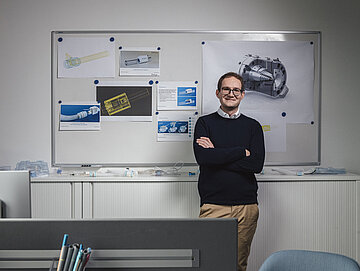 From the idea to series production

Efficient product concepts

Many things are feasible. We at RAUMEDIC aspire to develop the best solutions from clever ideas and bring them to the production stage. Our product conception covers the entire spectrum of what is possible. For measurable medical progress.
Our products differ as extensively as our customers' requirements.
According to the specific requirements of our customers, we create concepts for medical technology and pharmaceutical products that meet the highest quality requirements. We develop ideas further into economic processes and planning ability.
In doing so, we employ highly specialized solutions and complex systems and cover the most diverse application areas. We have mastered the entire range of methods for processing and fabricating silicone and thermoplastic materials under cleanroom conditions
"Product conception is an exciting game in a broad field.
This is where the competencies of RAUMEDIC, from which customers benefit in the long term, come together: Spirit of innovation, market experience, technological know-how, material expertise, and a diverse range of production processes. This dynamic interaction guarantees that our product designs will result in successful, economically sound series productions. Right from the start, we focus on close cooperation with our customers, because mutual stimuli, including those within our teams, spur us on to perform even better."
Björn Gläsel,
Head of Concepts & Predevelopment
Our concepts are targeted and solution-oriented
Our developers and design engineers get the best possible out of an idea right from the start. From the first professional assessment with the help of targeted material, cost and schedule calculations to detailed feasibility studies, load analyses, and simulations based on functional prototypes to planning efficient industrialization processes.
In every phase of design, we strive for an optimal demand-driven solution.
Innovation-driven
What is technically feasible? How does it become economically viable? Which materials and manufacturing processes are suitable? What can we do even better? For each product concept, we take on the challenge of turning an idea into tangible progress for customers and patients. Innovation is what drives us.
Collaborative
To ensure that your product concept is effective from the start to the solution, we accompany you through all process steps. Flexible, reliable and above all, straightforward. We take care of your request and make it our business. For you, this means less investment, more efficiency, and the certainty that your project will achieve its goal.
Industry experts
We know what we are doing. We dedicate all our experience and competence to your project. Our product concepts always focus on series production. We plan based on individual feasibility studies, create detailed prototypes, and carry out price calculations that are thoroughly thought through
Need support? We're glad to help.

Get in touch