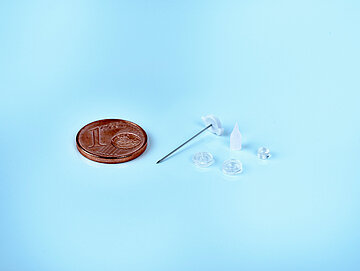 Solutions for minimally invasive surgery

Micro injection molding

The minimally invasive procedures are becoming increasingly popular. As a result, the miniaturization of molded parts and complete assemblies in the medical technology and pharmaceutical sector is also becoming increasingly important.

With our experience and expertise in micro injection molding, we optimize the possibilities for patient-friendly, minimally invasive procedures. Our goal is to support the patient's well-being and develop state-of-the-art medical technology for this purpose with our customers.
We manufacture product solutions that meet the highest requirements regarding tolerances, undercuts, surfaces, and complexity in the smallest dimensions. In addition to micro injection molding, we can also assist you in the fields of microextrusion and microassembly.
What we offer:
Complete assemblies from a single source
Products with part weights from 0.004 g to 1 g
Material selection from thermoplastics to high-temperature thermoplastics, such as PEEK and PSU, and silicones
Design
Toolmaking
Micro injection molding machine with the corresponding peripherals
Measurement technology equipment for packaging
You've got ideas? You've got questions?

Get in touch