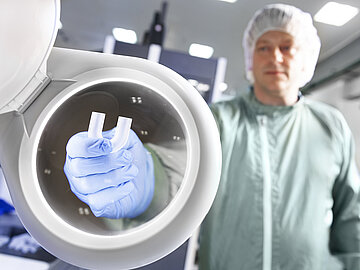 Commitment to Quality and Compliance with Regulations

RAUMEDIC Offers You Qualified Support
Certified Quality Management
Customer satisfaction and compliance with all relevant legal, normative and regulatory requirements are the focus of our concept of quality. In order to meet these requirements, RAUMEDIC has established a comprehensive certified quality management system:
QM system according to ISO 13485
Complete quality assurance system according to EC Directive 93/42/EEC
Complete quality assurance system according to EC Directive 90/385/EEC
RAUMEDIC is Manufacturing in a Controlled Environment
Manufacturing processes such as the production of medical products or semi-finished medical products and of pharmaceutical products as well place high demands on the environmental conditions. This is why RAUMEDIC manufactures in a controlled environment:
Clean room manufacturing according to ISO 14644, ISO Class 7 (=10,000)
GMP orientated manufacturing
CE-Marking for the European Economic Area
The CE declaration of conformity and CE-marking are necessary for placing products in the market within the European economic area. CE conformity assessment procedures for RAUMEDIC medical devices in line with:
Appendix II of EU Directive 93/42/EEC
Appendix 2 of EU Directive 90/385/EEC
Our services for customized developments includes professional support with CE certification processes.