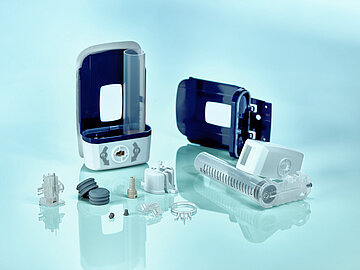 Drug Delivery

Article
Reading time: 5 min
The Challenge of Developing Wearable Drug Delivery Devices
Wearable drug delivery devices can significantly improve the quality of patients life. They base on durable platform solutions and require highly advanced disposable components, to ensure that patients receive the exact required dosage of formulated drug.
A very popular form of wearable drug delivery devices are insulin pumps, which give diabetes patients a more comfortable way of injection. For medtech manufacturers it´s crucial to be part of development projects from early stage on, to align design requirements and manufacturing processes. These are challenges within the development of wearable drug delivery devices, an experienced medtech manufacturer can help to overcome.
Definition: What is a wearable drug delivery device?
Worn inconspicuously on the body, so-called medical wearables simplify the lives of many people. Most people are familiar with the widespread fitness and wellness trackers, that are worn on the wrist or as a chest strap to record and evaluate the body's vital signs.
Another form of medical wearables which become more popular is represent by wearable drug delivery devices, such as insulin pumps for diabetics. These medical devices are either attached to a belt or worn directly on the body with the help of a patch (on-body devices). They include an infusionsystem and they are designed for therapies that require periodic subcutaneous application of a formulated drug. The medication can be administered regardless of time and place and modern devices have smart connections to measuring devices or smartphones. They offer patients greater safety, flexibility and convenience, which has a positive impact on their overall quality of life.
Components of wearable drug delivery devices
Wearable drug delivery devices often consist of two components: A reusable electronic activator that can be used for more periods and a disposable component or unit that can be replaced at shorter intervals.
Core elements of the customized disposable components are:
The fluid path, connecting infusion set, cannula, flexible tubing and tube clamps
The pump unit
The reservoir, vial or cartridge
The needle insertion system
The drug channel in wearable drug delivery devices
The drug channel is a crucial element of the whole wearable drug delivery device. Comprehensive know-how in various manufacturing processes is required to develop and precisely produce this customized fluid paths, that guide the fluidic way through wearable devices. The manufacturer of those medical polymer units must align all production processes and makes sure to develop precisely fitting and ready-to-use products for the individual device platform.
The drug channel system, so-called fluid path, unites a group of single-use components to transport drugs in wearable medical devices.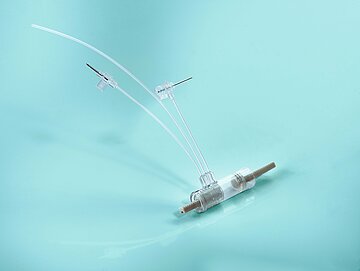 The production of the drug channel alone, which represents the complete infusion system of the medical device, requires extensive and multi-layered production knowledge. Many of the individual components are injection molded, while the flexible tubing is produced by coextrusion to ensure the best possible biocompatibility.
Wearable drug delivery devices: Why you should use co-extruded tubing
Coextrusion technology for the flexible tubing eliminates interactions between the drug and the material. The outer tubing layer, made of polyurethane (PUR), ensures that the tubing can be optimally bonded and sterilized in the devices. The inner layer is made of polyethylene (PE), an inert material with very good drug compatibility. In pharmaceutical applications which come into direct contact with drugs, it is essential that the materials used are selected very carefully.
The drug reservoir with plunger - For precise dosing in wearable drug delivery devices
When self-medicating through medical devices, the patient is expecting that the medication will be delivered in the exact dosage. Therefore, the reservoir in the wearable medical device requires a reservoir plunger with excellent gliding properties. To ensure perfect gliding forces, medical-grade silicone is shaped into the desired form with injection-molding. The plunger, like all other required polymer elements, is manufactured under cleanroom conditions based on ISO Class 7 .
Post processing of disposable components in wearable medical devices
Secondary processing of the disposable components plays an important role: in the drug channel, the microtube is bonded to the connection components using UV bonding . The injection needle is siliconized for the subcutaneous injection. The drug reservoir can be subjected to a similar process to ensure optimum gliding properties. In general, only as much silicone oil should be used as is necessary for an even application.
In addition, the desired graduated scale is stamped onto the polypropylene (PP) reservoir using the pad printing process. The serial number and the instructions for the correct placement of the cartridge adapter on the pump housing must be abrasion-resistant, so these inscriptions are applied using a laser marking process.
Conclusion
Early collaboration offers process reliability in the development and production of portable medical devices
When all major production and assembly steps take place under one roof, medical device manufacturers have fewer external points of contact and thus greater process reliability. Having a single point of contact for all necessary production steps can make projects much more effective. Proven expertise in a range of manufacturing technologies ensures that process feasibility is taken into account from the early design and drafting stages. Manufacturers from the pharmaceutical industry in particular have special requirements in terms of project management, certification and validation.
Let's connect
Got any questions?
We are happy to be here for you.