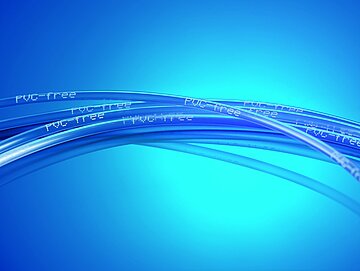 Material Development

Interview
Reading time: 6 min
PVC-free plastic solutions for the medical and pharmaceutical industry
Medical device manufacturers look closely at materials intended for use before starting the development period. In the plastics segment, polyvinyl chloride, or PVC, has been the choice for many medical applications. But today, there is a growing focus on other materials; the market is demanding alternatives. In our interview, Dr. Ralf Ziembinski discusses the possibilities.
Dr. Ralf Ziembinski, Head of the Tubing Business Unit at RAUMEDIC

7 Questions for Dr. Ralf Ziembinski
PVC was indispensable for years and is still widely used today. But the material is increasingly the subject of public criticism. Is it warranted?

This is where we have to make a strict distinction. In the field of medical technology, the criticism is largely aimed at the plasticizers in the material. It has been proven that DEHP or DOP exhibit reprotoxic characteristics and can be comparatively easily dissolved out of the material. We have used DEHP-free plasticizers, such as noDOP, for years to rule out this risk. The probability of migration is 100 times less with these substances.
The EU Commission is also taking action: The present exemption that permits the now discredited phthalate for blood bags and transfusion tubes will only be valid for a further three years after Appendix XIV of the REACH regulation comes into effect.
Are there still any arguments in favor of PVC?

There certainly are for medical-grade plastic disposable products, because the material is cost-effective, it is suitable for secondary processing and it has been proven for decades. While earlier materials such as glass and rubber were used in medicine, PVC has helped make healthcare better and safer. As long as it is DEHP-free medical grade quality, the material is also highly tissue and blood compatible.
In the clinical setting, it is also extremely important that PVC parts and components can be easily sterilized before use. Because no one wants to risk an infection caused by germs.
Will PVC disappear from medical and pharmaceutical applications?
This is a matter of cost more than anything. If alternative materials with a similar price point and comparable properties break through in the market, that is certainly possible. Otherwise the healthcare system would be heavily impacted.
We therefore believe that PVC will continue to have a certain right to exist in the medical and pharmaceutical industry. Its qualities such as biocompatibility and sterilization capability as well as technical factors such as flexibility, transparency and strength along with its low cost can simply not be dismissed.
Nevertheless, PVC is not always the material of choice. Why?
For applications where PVC will come into direct contact with drugs, possible interactions must be carefully monitored in advance. Because there are actually several ingredients, including Taxol, nitroglycerin, Diazepam and insulin that are incompatible with PVC. There are often two aspects to this problem: First of all, the solubilizers in PVC can result in the plasticizer dissolving out of the material. Secondly, certain drug ingredients can become deposited on the PVC surface. This adsorption is associated with an undesirable loss of active ingredient, i.e. a lower dosage.
What is your prognosis for the future?

More and more customers are already asking us about PVC alternatives, which is often driven by the requirements of hospitals. This trend is likely to intensify. A complete transition to PVC-free materials in medical devices would be a lengthy process, in my view. And manufacturers would also have to expect higher prices for the alternative materials.
Which PVC-free materials do you offer your customers?
There are a few possibilities. We used TPE in the development of a new drip chamber, for instance. For medical tubing, we can offer soft PP, especially when optimal drug tolerability is required. This is because polypropylene doesn't require plasticizers – as is the case with polyurethane, incidentally. In addition, the material characteristics are very similar to those of PVC.
When a more cost-efficient PVC alternative is needed, coextrusion could be a solution. We have developed a medical-grade two-layer tubing made from EVA and styrene-butadiene rubber (SBR) in this field. Because the outer layer can be dyed, the tubing enables optimal administration of light sensitive drugs such as chemotherapeutic substances. Thanks to the transparent inner layer, the active ingredient does not come into contact with the color pigments.
In addition, the outer layer of tubing made from SBR can be easily glued, which plays a key role during secondary processing.
Speaking of secondary processing, which applications can be considered for these alternative materials?
There are many. Our Coex tubing made from EVA and SBR and the TPE drip chamber are ideal for gravity infusion kits. For example, when nutritional solutions or drugs need to be parenterally administered. These PVC-free materials could also be used for transfusions. Soft PP is also suitable for replacing PVC tubing in infusion pumps.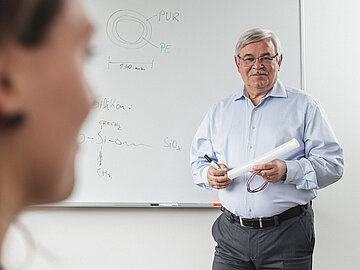 Dr. Ralf Ziembinski
Dr. Ralf Ziembinski is Head of the Tubing Business Unit at RAUMEDIC. With a doctorate in chemistry, he specialized in the research of inorganic polymers as far back as his post-doc studies at the University of Toronto, before bringing his know-how to RAUMEDIC beginning in 2004.
Let's connect
Got any questions?
We are happy to be here for you.