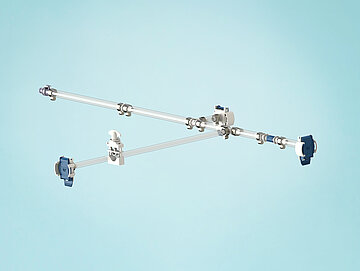 Development

Article
Reading time: 12 min
Single-use tubing's crucial role as cross flow filtration equipment
Why the next generation of anti-cancer biopharmaceuticals relies on customized single-use tubing.
Antibody drug conjugates (ADCs) are innovative biopharmaceutical drugs used to fight cancer.
The production of ADCs in bioreactors is a complex and hazardous process. Tangential flow filtration systems (TFF) and crossflow filtration play a crucial role in this process.
Disposable tubing plays a surprisingly crucial role in many bioreactors.
Such single-use tube sets must be developed specifically for each TFF machine -and must also be as safe as possible - and avoid residues.
What are antibody-drug conjugates (ADCs)?

Antibody-drug conjugates (ADCs) are specific drugs for treating cancer. As of June 2023, a total of 12 ADCs have been approved by the FDA, while more than 170 novel ADCs are in clinical development, according to GlobalData's Pharma Intelligence Center.
Antibody-drug conjugates (ADCs) represent one of the most promising and intriguing areas of research in cancer drug development. They consist of three parts:
An antibody
An active ingredient
A compound that combines the antibody and the drug
The development of antibody-drug conjugates (ADCs) is one of the most dynamic segments of pharmaceutical research and represents a significant share of the overall pharma research landscape.
ADCs: antibodies that target cancer cells

The antibodies can "recognize" cancer cells and bind to them. Once the ADC has docked onto the cancer cell, it releases an active ingredient. This active ingredient can destroy the cancer cell or inhibit its growth. What is special about ADCs is that they specifically target cancer cells while largely sparing healthy cells. As a result, they can help fight cancer while reducing potential side effects. This makes them a unique and promising new method in the fight against cancer.
How are ADCs manufactured?

The manufacture of ADCs is a precise and multi-step process. A process that is subject to strict quality controls. Tangential flow filtration (TFF), often called crossflow filtration (CFF), plays a crucial role in this process. In simple terms, the production process for an ADC can be described as follows:
First, specific antibodies that can recognize and bind cancer cells are produced or isolated in the laboratory.
Next, the active ingredient that is to destroy the cancer cell is chemically coupled to the antibody. This is done with the help of special compounds that create a stable bond between the antibody and the active ingredient.
The final step is purification of the produced ADC to remove unwanted impurities and ensure that the final product is of high quality.
What is Crossflow Filtration/ Tangential Flow Filtration?
TFF/CFF is an advanced filtration technique used in biotechnology and pharmaceutical production. It works in a fundamentally different way from conventional filtration methods, in which liquid is forced directly through a filter medium. In the TFF process, however, the liquid flows along ("tangentially") the filter while particles of larger size are retained.
What is the advantage of crossflow filtration?
The method allows for a very precise separation of substances. The result is a concentrated solution of the desired product. TFF is therefore often used to optimize bioprocesses for the concentration of cell cultures. It is a key technology in modern biotechnological production.
Why is the production of ADCs so dangerous?

The production of ADCs in bioreactors can be highly toxic - due to the specific chemicals and processes used. The main reason for this are so-called "cyotoxic payloads". These molecules are the actual drugs that are coupled to the antibody to target cancer cells. Cytotoxic payloads are highly effective, but also very toxic. The utmost care and safety conditions are therefore essential in the production of ADCs.
In addition, the cultivation of cells in bioreactors can also be toxic, as celld are usually grown in special media that may contain nutrients and additives that can be extremely hazardous to health or the environment. It is therefore crucial that strict safety requirements are adhered to - in order to effectively prevent and avoid the leakage of fluids and substances.
What role does single-use plastic tubing play in TFF machines?
Single-use tubing or tube sets play a crucial role in a TFF machine. They are used to guide the fluid through the system, making them a prerequisite for the tangential flow of fluids along a filter membrane in the process.
Maximum tightness, minimum residues: requirements for single-use tubing for ADC processing
The production of ADCs in bioreactors brings with it a formidable challenge, as highly toxic active ingredients are being processed. However, this toxicity is necessary since these ingredients are intended to destroy cancer cells in patients.
This poses a major challenge to TFF machine manufacturers: finding and selecting a manufacturer and supplier of customized single-use components. Further, it is equally important to choose a suitable assembler who not only works on the development of the specific single-use tubing sets, but is also able to develop customized solutions and implement them reliably and safely. Only in this way can the tube sets be perfectly tailored to the specific TFF machine.
The tubing per se is particularly important. It must be precisely adapted to the requirements of the TFF machine and its system. Also, tubing plays an important role in all critical connections points of a single-use set.
Hence, it's very important to find a partner who can develop and manufacture solutions for single-use tube sets. In addition, the supplier must also be able to develop and manufacture the tubing, tubing connections, and other components - so reliably and safely that they are perfectly tailored to the specific TFF machine.
In addition to safety requirements, the tube set must be designed to minimize residual substances on the tubing through which the fluids are pumped during the crossflow filtration process. This requirement paramount - considering the monetary value of even small amounts of the substances developed in TFF machines. Therefore, tubing must be chosen with the goal in mind of not wasting a drop of the precious substance.
Design, manufacture, and packaging of single-use tube sets for crossflow filtration in a TFF machine
RAUMEDIC manufactures and assembles several single-use tube sets - together with individually developed packaging for a system manufacturer of a tangential flow filtration (TFF) system for process development - all in compliance with tight tolerances and specific requirements of the customer.
In total, the order included six different single-use tube sets. These included three complex sets, namely the feed set, the retentate set and the permeate set.
Feed Tube Set
consisting of 28 different components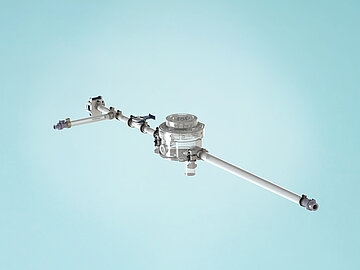 Retentat Tube Set
composed from 26 different components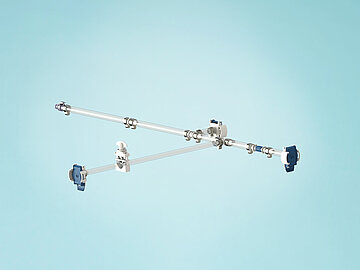 1. Starting Point and Approach
The project was under considerable time pressure from the outset. The customer approached RAUMEDIC with already existing drawings and parts lists. The team of the polymer specialist RAUMEDIC, already attuned to working with the customer on an equal footing due to successful historical cooperation, quickly recognized possibilities for optimizing the individual components. Accordingly, the requirements for components were defined together with the customer.
2. Production and Assembly of the Single-Use Tube Set
A filtration line with 10 different components
The retentate with 26 different components
The permeate with 18 different components
A transfer manifold 11 different components
A feed set with 28 components
A connection kit with 7 components
In total, almost nine meters of tubing were used per set. Three types of specially extruded biocompatible tubing made of two materials were used for the set:
3. Flexibility and Agility During the Project
During the project, the advantage of an agile project team with a customer-centric orientation became apparent. For each requirement, for each sub-project and each work package, the appropriate specialist was appointed to the project team on the RAUMEDIC side. In agile product development, this not only ensured that the necessary expert for each component and manufacturing process had a seat at the table. The agile mindset as well as the processes in the project made it possible to respond ad hoc to numerous new change requests and specifications from the customer.
4. Quality Awareness as Part of the Corporate Culture
Other aspects of RAUMEDIC's corporate culture, that are not directly related to customer cooperation, also proved to be crucial. When components supplied to RAUMEDIC for further processing were of inadequate quality - and the project deadline was jeopardized - the company was able to quickly switch to another partner in the supply chain and resolve the problem thanks to its long-standing presence and broad network in the market. It was remarkable that the inadequate quality of the components was discovered by a RAUMEDIC employee working in manufacturing. This shows that quality awareness is a living culture at RAUMEDIC at all levels. In line with one of the company's core values: "Reliably Safe."
5. Subsequent Commissioning of Packaging and Support in the Qualification Process - Advantages of a One-stop-Shop for Single-Use Tube Sets
It is well-known wisdom: the more competencies a company combines in the upstream value chain under one roof, the easier the collaboration for the customer. The advantage of a single one-stop-shop became evident during the project: after evaluating numerous possible business partners, the conclusion on the customer side was that RAUMEDIC itself would be the most suitable partner for the packaging.
"Our role went far beyond that of a contract manufacturer for complex tube sets: we provided a great deal of advice and thus played a key role in the development of the tube set. At the customer's request, we also developed tailor-made packaging that is not only suitable for gamma sterilization, but also meets the high transport safety requirements."
Stefan Kraemer, Product Engineer
Thanks to its in-depth knowledge of the industry, RAUMEDIC was also able to take over work packages from the customer and bring them to success reliably and efficiently. Especially the support in the context of installation qualification (IQ), functional qualification (OQ) and performance qualification (PQ) and the constructive cooperation at eye level were highly appreciated.
RAUMEDIC - Manufacturer of single-use tubing and tube sets for crossflow filtration
RAUMEDIC specializes in customized polymer and silicone solutions to meet the specific needs of the medical and biopharmaceutical industries.
With a history spanning more than 70 years, RAUMEDIC has perfected its expertise in extrusion, injection molding and assembly for global companies in the medical and pharmaceutical sectors. This extensive experience is reflected in a proven track record of success.
The path from the initial idea to the finished product can be long and demanding. RAUMEDIC acts as a reliable problem solver and strives to make this path as smooth as possible for its customers.
We realize product concepts according to individual customer requirements and are personally committed to achieving real results that exceed our customers' expectations.
Find out more about RAUMEDIC and get to know our competencies here.
Or contact us right now here and let us advise you!
Let's connect
Got any questions?
We are happy to be here for you.